The story of your life
at Shinyu-onsen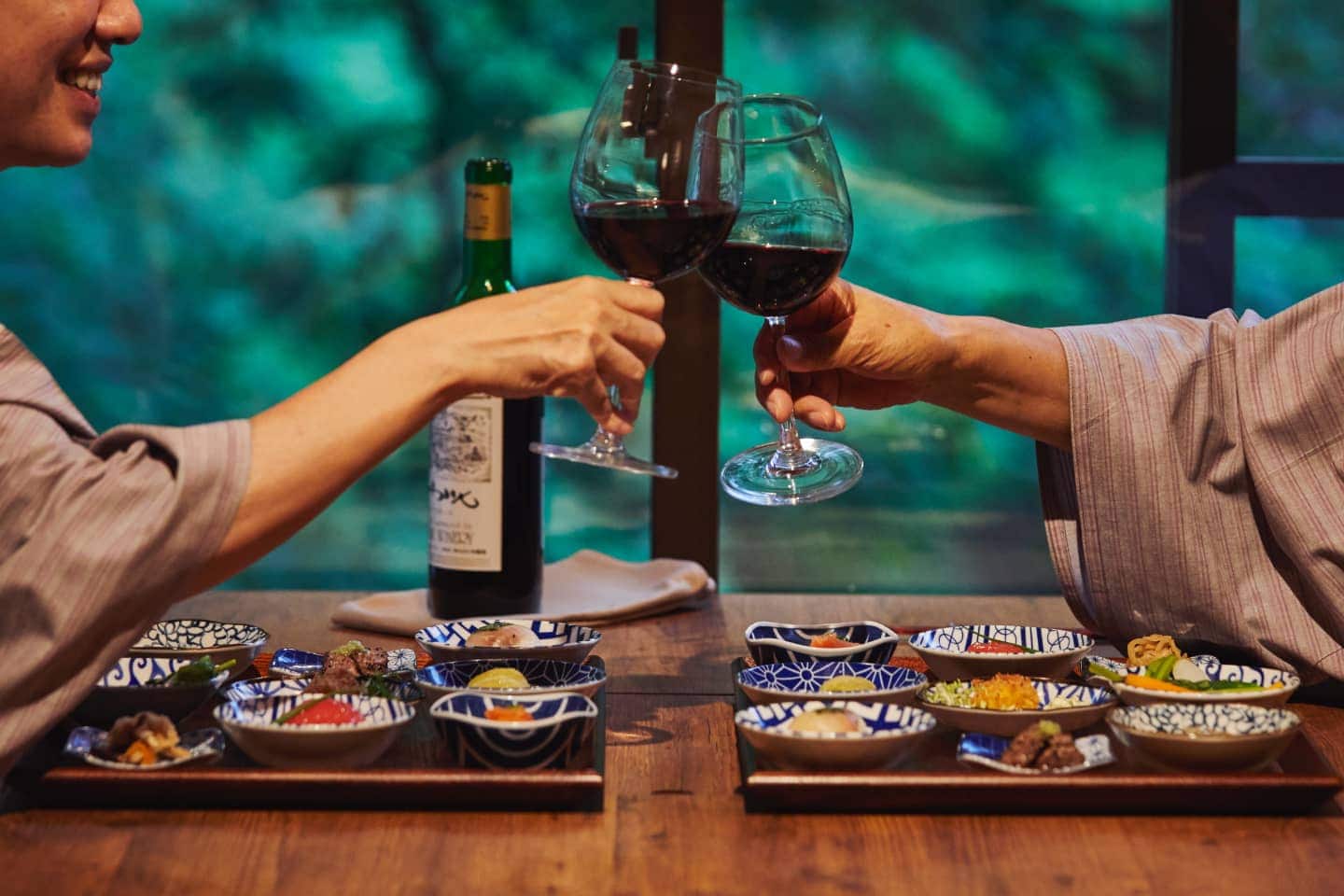 STORY 03

Empowering the heart
by traveling with dear friend
This time's theme is going to travel and taste the delicious sake. We main reason is recovery of 30 years friend of mine. During the recovery period at the hospital, sake was not permitted, so this is chance to relive. Recently, the name of Tateshina Shinyu Onsen located In Nagano and Nagano Wine is attaining fame. Therefore, we made our choice on this.

What is this hotel?! The wide entrance is very simply, stepping inside of the building opens special world where colorful sofas and Persian carpet, Jingdezhen and Casablanca were decorated.

Stepping further, books, books and books? I wondered, is this Library?! as all the books are placed with taste. When I was looking to the books, came across with the old books, which made me to surprise again. "Old books are binded completely different"I said. There was no white space almost as the letters written everywhere. I remember, i had this kind of books at my house, it made me feel missing those moments.

My friend was holding Tanizaki Genji and it seems she is missing old moments too. "Want to stay here for 100 years", he said, as she loves reading. I also agreed with him. Looking around, we noticed Bar Counter. We decided to drink Moet&Chandon for my friend's recovery and further well being.

Ah, meaning of this choice. The real travel started. We have tried Ladies Special Open Air bath. By enjoying the hotspring and marvelous valley, the word of paradise" coming out. Japan is blessed by god with such hotsprings.

The time of long waited dinner has come. Let's enjoy the drink. At the entrance of restaurant, left side was Japanese Sake and right side was Wine Celler. While the staff was escorting us to the private dinner room, both of us silently watching drinks. This atmosphere made us enthusiastic, we were thinking what to choose.

The corridor with beautiful Japanese lantern light reminds Taisho Period. Glass light in each private dining room was splendid and depicted festive atmosphere of dinner. The meals is not only having it, but also enjoying the atmosphere, the talk with partner and the dishes. These all gives the meaning to the cuisine and each time the taste feels differs under certain circumstances.

There is 20 types of wine selection. I feel happy for this selection, cause most hotels prepare only 3 type of wine or sake. This place is Japan number one wine producer and several sake factories situated in Suwa city.。

When I said the staff our celebration reason, she prepared delecious red wine for us. Wine was Nagano Wine, for sure. It was mild taste, strong flavor as my friend. "Congratulation ons your recovery! Strong health and merry journeys. Let's hang out and have tasty dishes together!"

Champagne→Red wine→Suwa Sake→Iida Imo shochu with hot water.
We didn't remember how much we drunk. "Satisfied with cuisine. It is time to visit the Bar".
She still wanted to continue drinking.