The story of your life
at Shinyu-onsen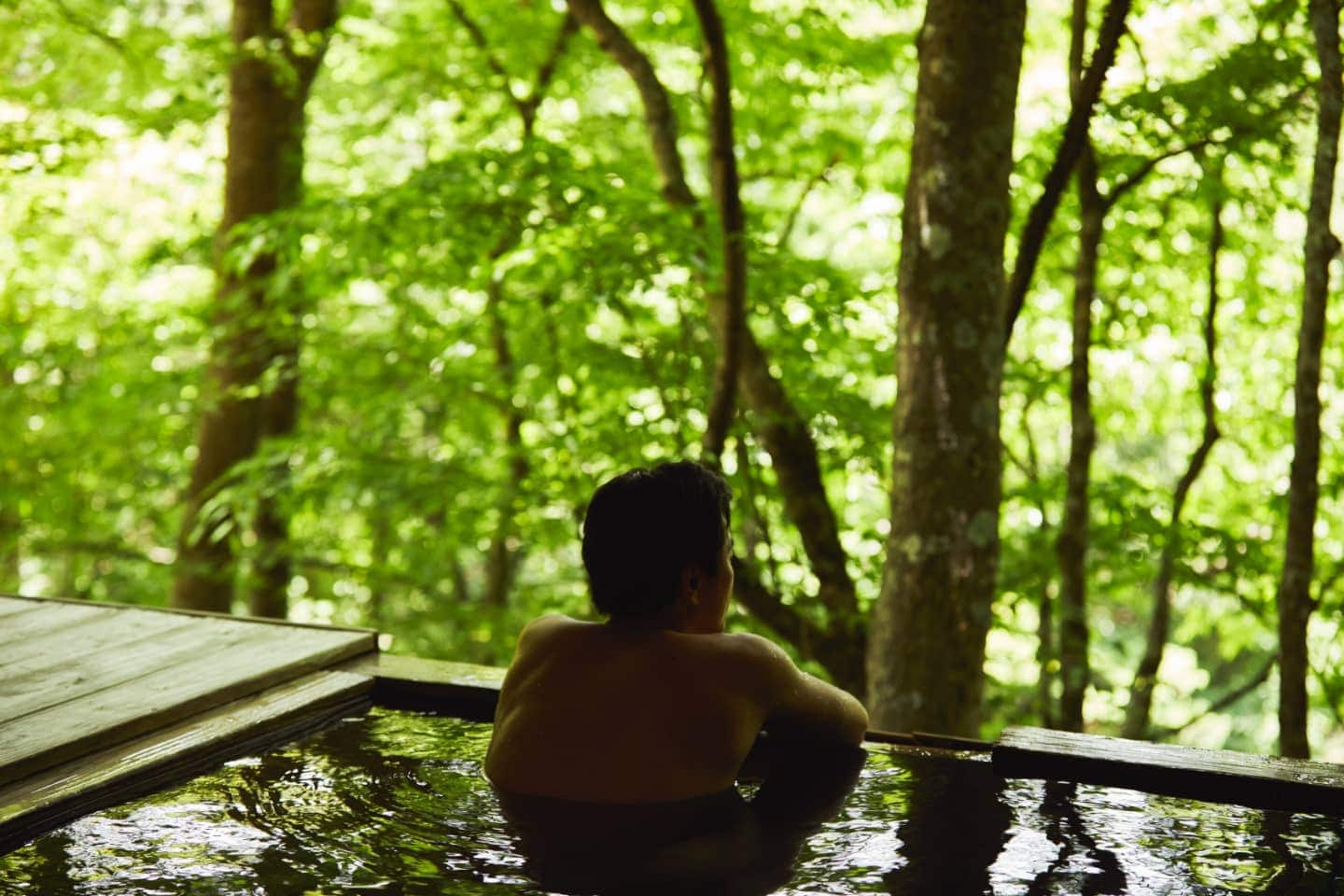 STORY 02

Self-confident man traveling alone
This time I had long holiday for traveling on my own. It is never late to learn something new. My wife have collected the photos which shows growth of our family, however man on this age takes the photos of things as it is.

Wanted to go far from town, where will be surrounded by nature. In addition, if there is open air bus, that would be great. Can enjoy the shooting of nature.

I wanted to go to the place where we stayed with my wife before. Inn surrounded with mountain ravine. It takes two hours by Azusa from Shinjyuku station, can reach Chino without any train transfer. Shuttle bus welcomed at the station and drove to the hotel, located right at heart of nature as a secret valley.

After my arrival, I was surprised to see books, it felt as library. The books were mainly 1955 to 1965s. Astonished by the whole picture of the hotel. While wandering around, te staff asked whether I made reservation of private hotspring. I thounght that as I am alone and it is not couple trip, this kind of service is not necessary for me. However, the staff told me that the scene of nature, fresh green leaves are gorgeous on this season to see it from private hotspring. So I changed my mind and decided to make reservation, but I was a bit embarrased to do so.

I stored my luggage and had some walk around with my camera on hands. As staff told me the beauty of nature around, I decided to walk the ravine around on distance 7 mins on foot.

The trees around were so dense and the sent of life can be felt through the vivid green of each leaves. It displayed the younth age of people. As if this whole atmosphere was going to wash out my long, hard way of life and bring me back to the young ages. I seemed as in Yakushima Islands. This dense and overwheling nature located so close by the hotel. I shoot whole the photos for my memory.

I moved further, where the Otaki waterfall was. Among all this beauty, waterfall was matching so much.It is charming not only this season but also autumn color and winter`s snow fall.

Nearby the waterfall, small summerhouse was built. It is comfortable to use it while having something delicious by observing nature and even painting. The hotels manage the place and keep it always cleaning in order to make the guests to enjoy the place.

I did not know how much time passed, was spending it by taking the photos of charming nature. Nobody appeared whithin this time, maybe most of the people didn`t know it. I thought it would be my special place that nobody would know.

Even did not realize time passed, it was already time of private hotspring which I reserved. While returing back, again looked around and heard the sound of river. It was true that recception staff told me about nature. Private hotspring was delightful for my heart, to wash away everything.

When I was in Bar, having beer, came across with the book of Harada Maha "Ikiteru Bokura (As we are alive)". This writer also lives in Tateshina. While I was reading, the name of "Mishaka pond"was reminded. I asked the staff around, that this place exists or not. Staff replied that Mishaka pond exists and surface as mirror reflects nature around. This place was displayed on Sharp AQUOS advertisement. In fact I wanted to visit famous Shirakabako Lake, but I have chnaged the course to Mishaka pond. I want to make memory photos for this fascinating place.

I felt relaxed. This trip was good because can move independently, could choose my course where wanted to go on my own. It was reward for myself after a long busy life. By having whisky, enjoyed the rest of the book.