Celebrating 100th anniversary of Tateshina Shinyu Onsen, some new project has been made.
In 2018, all dining room has been change to all private dining. as for the lobby lounge,
more than 30000 books display to show the connected between Shinyu and literature history.
A new space, bar and lounge where you can have a taste of alcholol beverage has been created as a gathering space.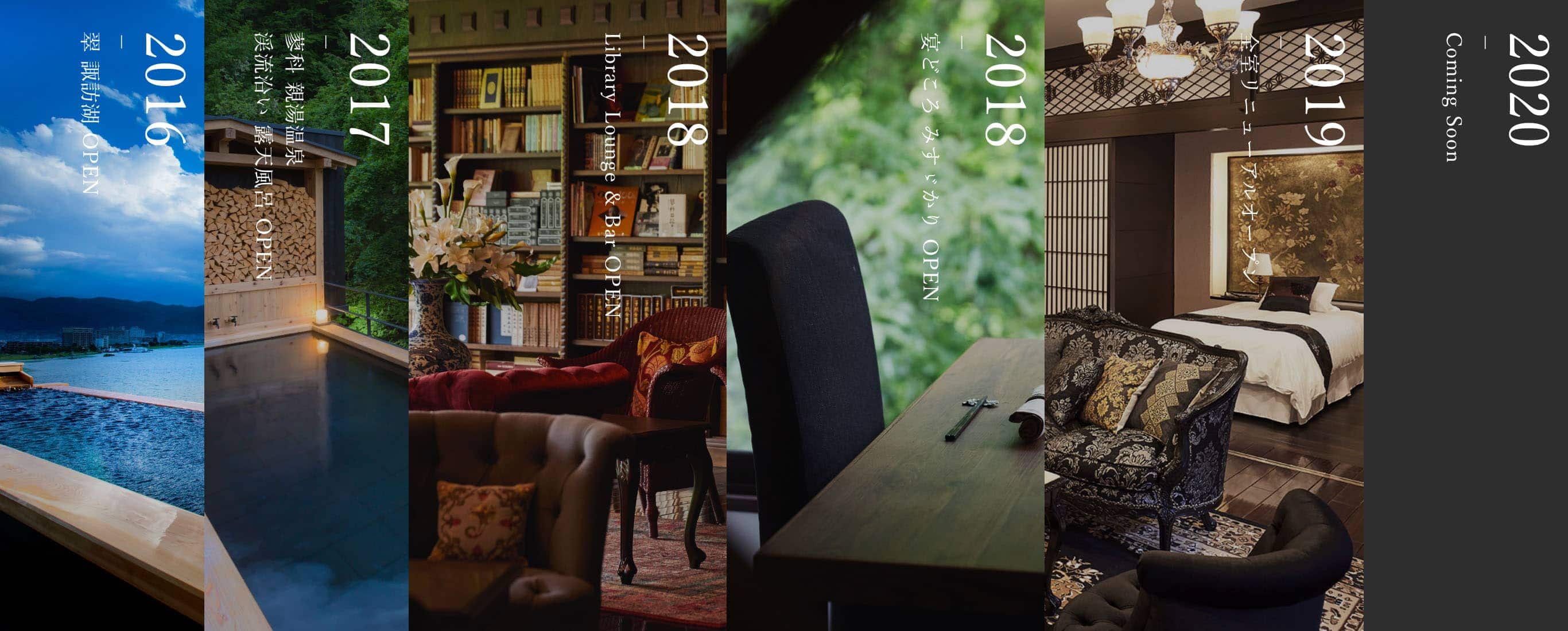 Private Dinning Room
All private dining room is made to ensure all guest may enjoy their dining and completely protect their privacy space. Furnished with floor heating system.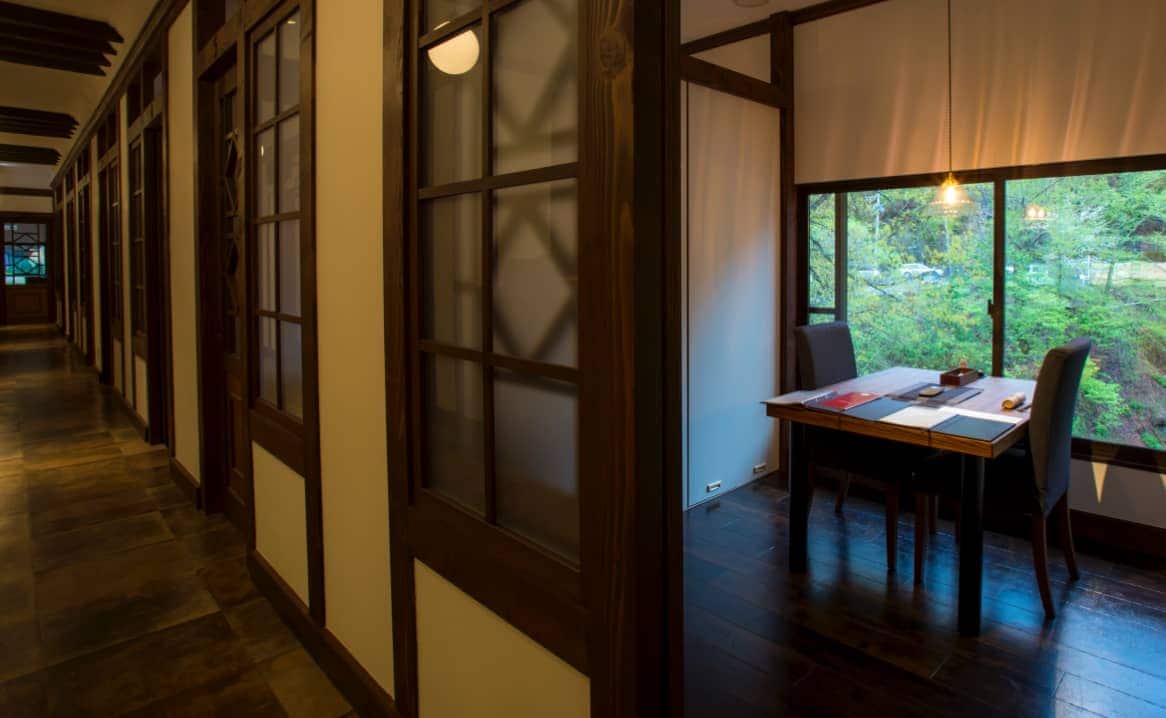 Library lounge and bar
Many of litterateurs with poets has came from Taishou and Meiji period, using east space for relaxation and recreations.
Explore their history in 1st floor gallery. Enjoying also many beverages after checking in at bar together with 30000 books.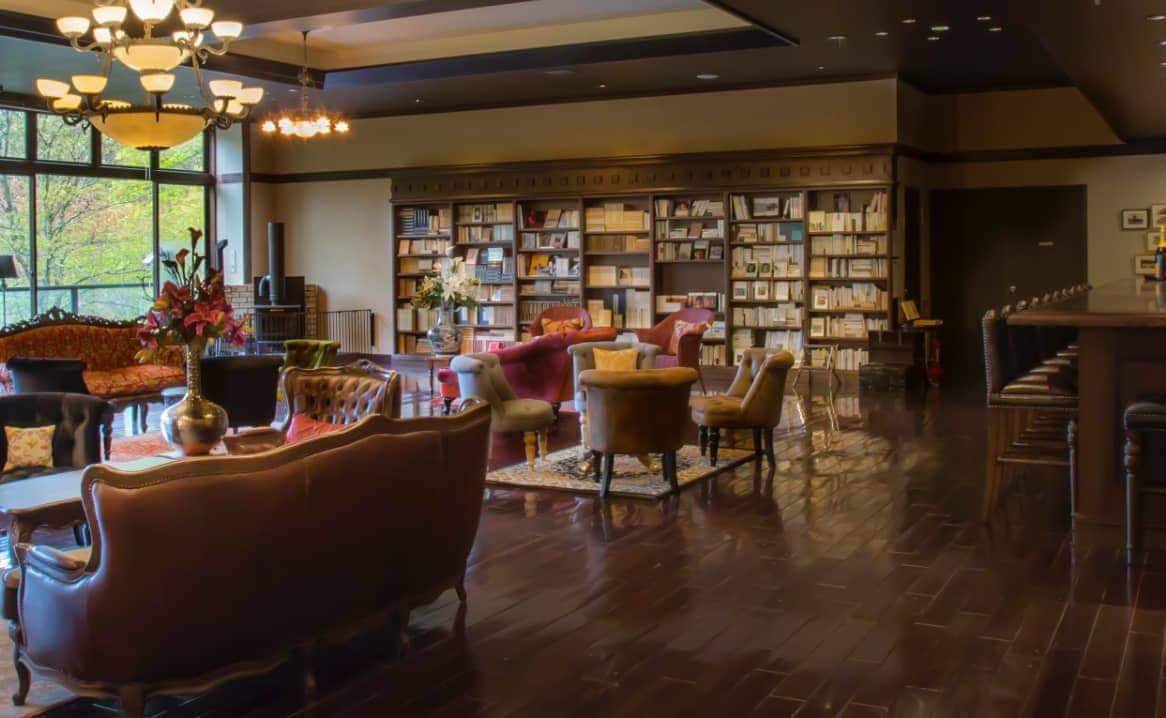 Greeting
Many of projects has been made to celebrate our 100th anniversary.
We could not do it without any help from our guests and associate parties, also not forget from our local residents. We would like to gave them our highest gratitude for them. Continuing the first, second, third and as the fourth generations, we would like to preserve history and make Tatesishina become wellknow nationally.
We took this path as a way to remember what we had been achieved till now and as a started to create another 100 years history.
Yukiteru Yanagizawa
4th generation – Representive
and President of Shinyu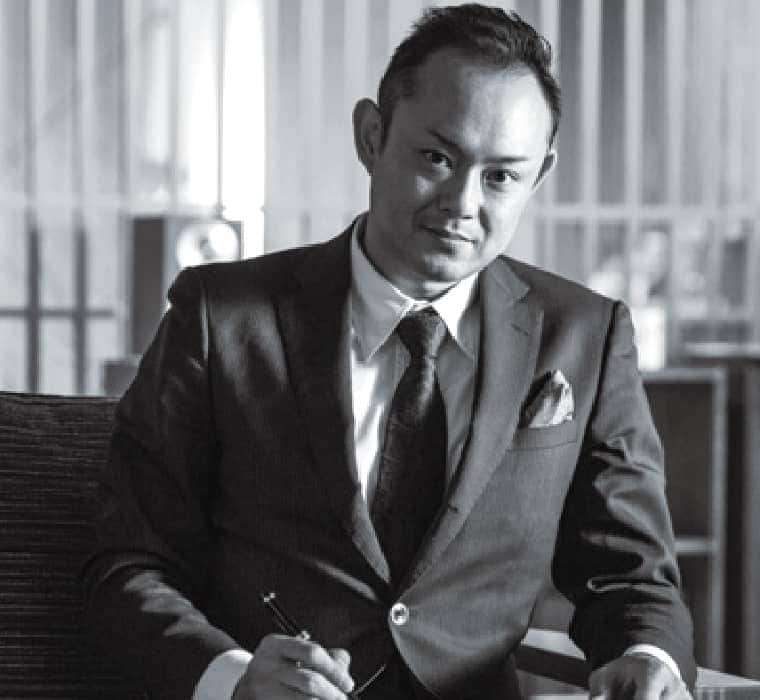 Story line of Tateshina Shinyu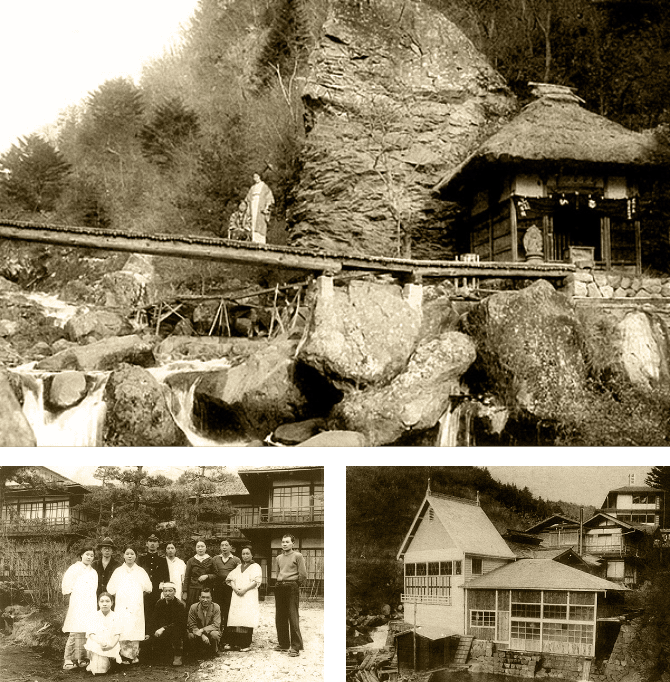 1542(Tempo year 11)

Shingen Takeda owned Suwa Area.
1552 (Tenbun year 21)

Shingen no boumichi, the shortest hiking road from Koushuu to Nakajima was made. At that time, Tatshina Shinyu Onsen was a place for soldier to healing the wound by soak in hotspring.
1601 (Keichou year 6)

Tateshina Shinyu onsen controlled by the first Lord of Suwa, Suwa Yorimizu
1900 (Meiji year 33)

Mainly in summer, stagecoach or a horse drwand streetcar service connected to Chino Station with each hotspring spot was started.
1904 (Meiji year 39)

Shinohara Shizuku, japanese poet, invited many famous poets and litteratuers such as Ito Sachio and Hirafuku Hyakusui for long stay in Tateshina Shinyu Onsen. Tateshina was written and started to known by Kanto Region and Chubu region. Many artist also started to visiting Tateshina.
Itou Sachio`s work, "Poetry of Tateshina Mountain" that also was a cultural heritage was well known also.
1909 (Meiji year 42)

Yukawa Financial ward bought Tateshina Shinyu Onsen and lost the management of shinyu due to lost of bid.
1923 (Taishou year 12)

Kanji Ozawa, headmaster of Takajima elementary school in Kamisuwa city, tried to made Tateshina Shinyu Onsen as a place for health center to kids with health problem.
1924 (Taishou year 13)

Opening of Tateshina Health Center
1926 (Taishou year 15)

The first president`s great grandfather build Onsen Hotel.
1927 (Shouwa year 2)

Opening of Onsen Pool in Tateshina and named Pool daira
1930 (Shouwa year 5)

Opening of Pool in Tateshina Shinyu Onsen. Many olympics athletes came and Hakuren Yanagihara also came around this area.
1937 (Shouwa year 12)

Opening of Tateshina Post Office.
1940 (Shouwa year 15)

The First President`s Great Grandfather won bid for Tateshina Shinyu Onsen
1944 (Shouwa year 19)

The rights of health center in tateshina was taken over forcely by Nobi Naval Hospital
1948 (Shouwa year 23)

Establishment of Shinyu Onsen Limited Company
1948 (Shouwa year 23)

Many olympic athletes came in those six years for training in Tateshina Shinyu Onsen Pool. Swimming club from many universities also came for winter training camp.
1949 (Shouwa year 24)

The local bus from Chino station to Lake Hakuba started. The start of Tourism industry.
1953 (Shouwa year 28)

Second president`s Grandfather establish Tateshina branch school (known as Kitayama Elementary school). Shiro Kobori, painter, said learn from Shouin Yoshida. Education is only for few number of people. The teacher, Rairyu Takeuci, was invited from Toyama prefecture by Ogai Mori`s daughter, Anne Kobori.
1957 (Shouya year 32)

Yasujiro Ozu was staying for film shooting. After [Tokyo Twilight] in 1957, he also wrote scenario together with Kogo Noda, a screenwritter. He produced 1957 [Tokyo Twilight], 1958[Red Spider Lily], 1959[Good morning], 1959[Floating Weeds], 1960[Late Autumn], 1961[The End of Summer], 1962[an Autumn afternoon], all was written shile staying in Tateshina. Total of 17 visits was recorded.
1988 (Shouwa year 63)

Reconstruction of Tateshina Shinyu Onsen
2006 (Heisei year 18)

Renewal construction according to Tateshina Shinyu Onsen rebrandanding
2011 (Heisei year 23)

Open Kamisuwa Shinyu Onsen
2016 (Heisei year 28)

Open Sui-Suwako
2017 (Heisei year 29)

Open-Air Onsen Bath connect to Indoor Public Bath
2018
(Heisei year 30/
Reiwa year 1)

Public Areas ' Renovation ( Private Dinning Rooms, Lounge & Bar, electricity, plumbing, etc.)
2019 (Reiwa year 2)

Renovation of All Rooms.
2020 (Reiwa year)

Renovation of All Public Areas.
2026 (Reiwa year 8)

100th Anniversary of Tateshina Shinyu Onsen